My Watchlists function is a way to create and browse watchlists of securities. You can also choose which columns are displayed in the watchlist, group securities or add summary rows.
Watchlists can be accessed in My Watchlists, My Dashboards and the right-hand sidebar.
Create a Watchlist
To create a new watchlist, click the "New" button at the top of My Watchlists.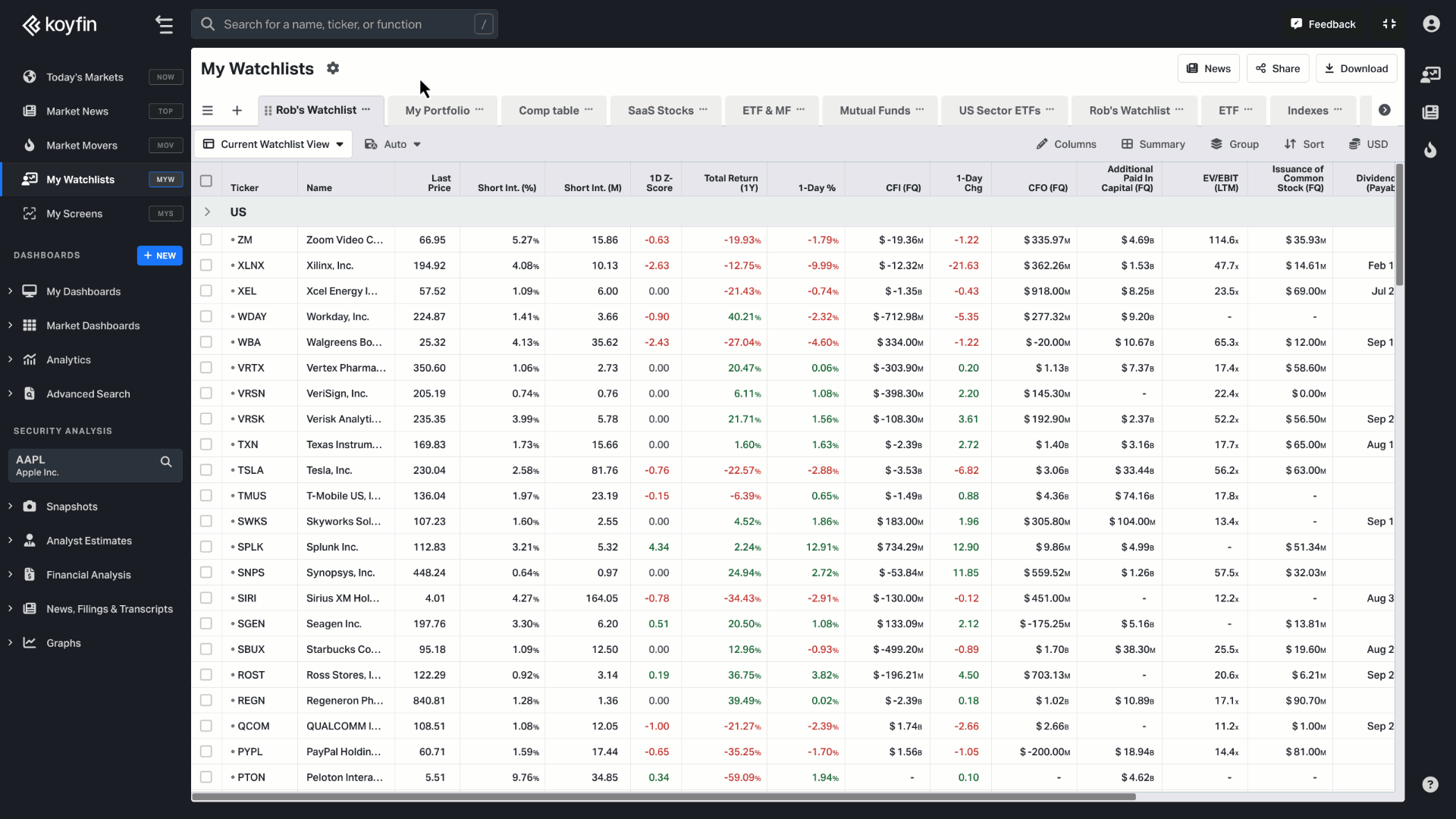 You can rearrange the order of the watchlists by dragging the tabs, or by dragging the watchlists in the menu.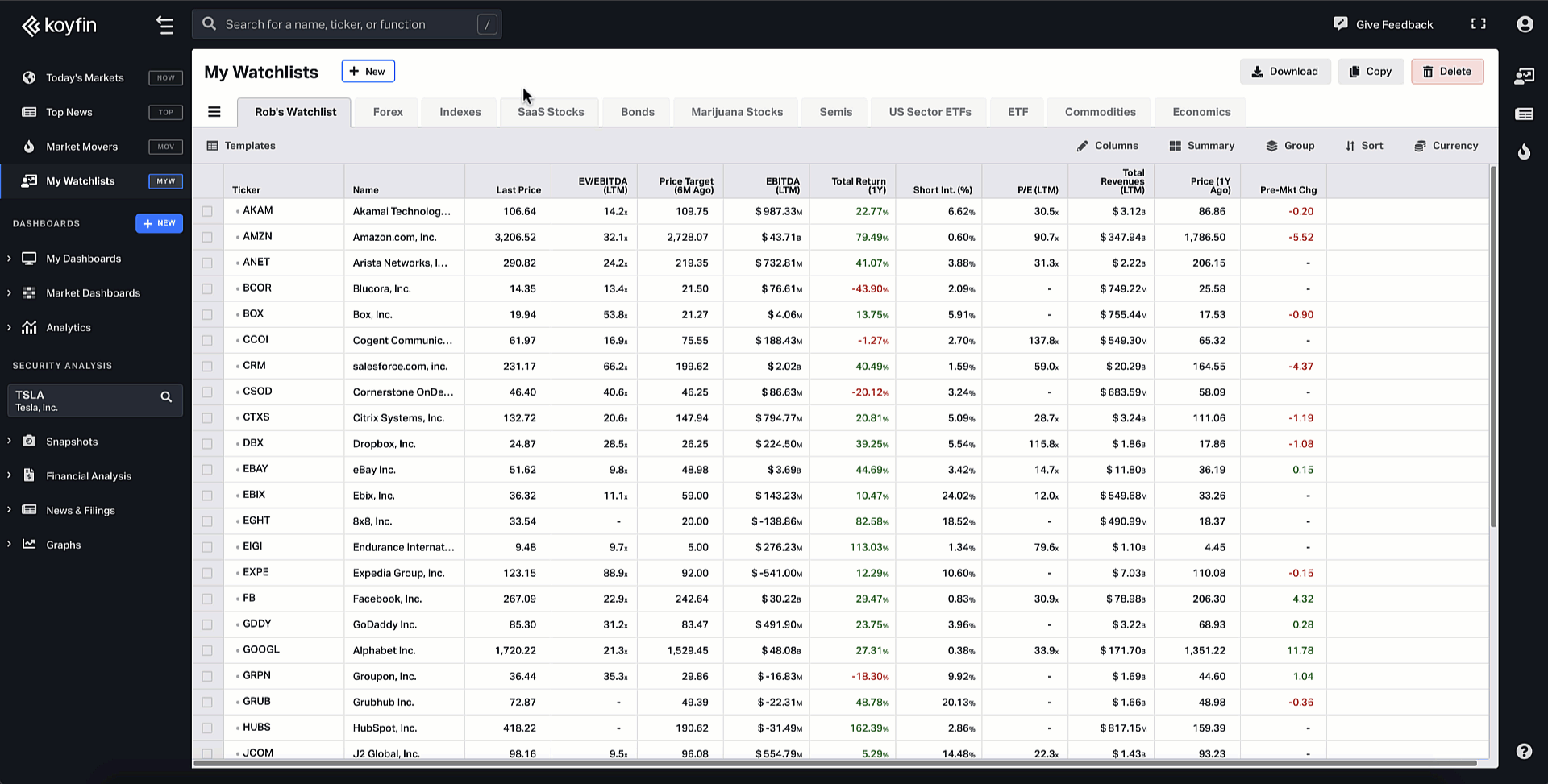 You can rename, duplicate, share or delete a watchlist on the top right, or in the My Watchlists menu.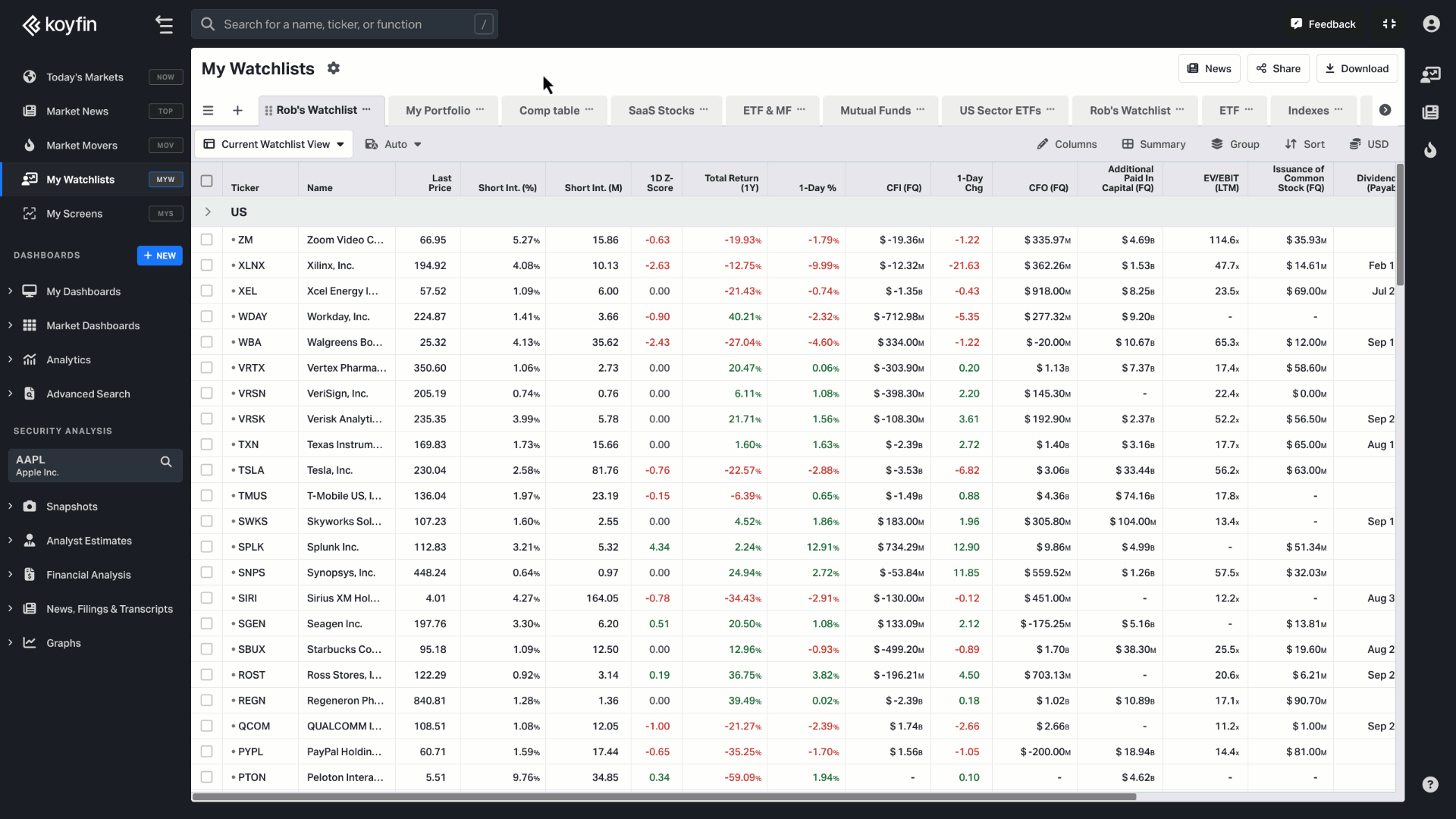 Adding and importing Tickers
You can add tickers to a watchlist by clicking on the "Add Ticker" button in the watchlist.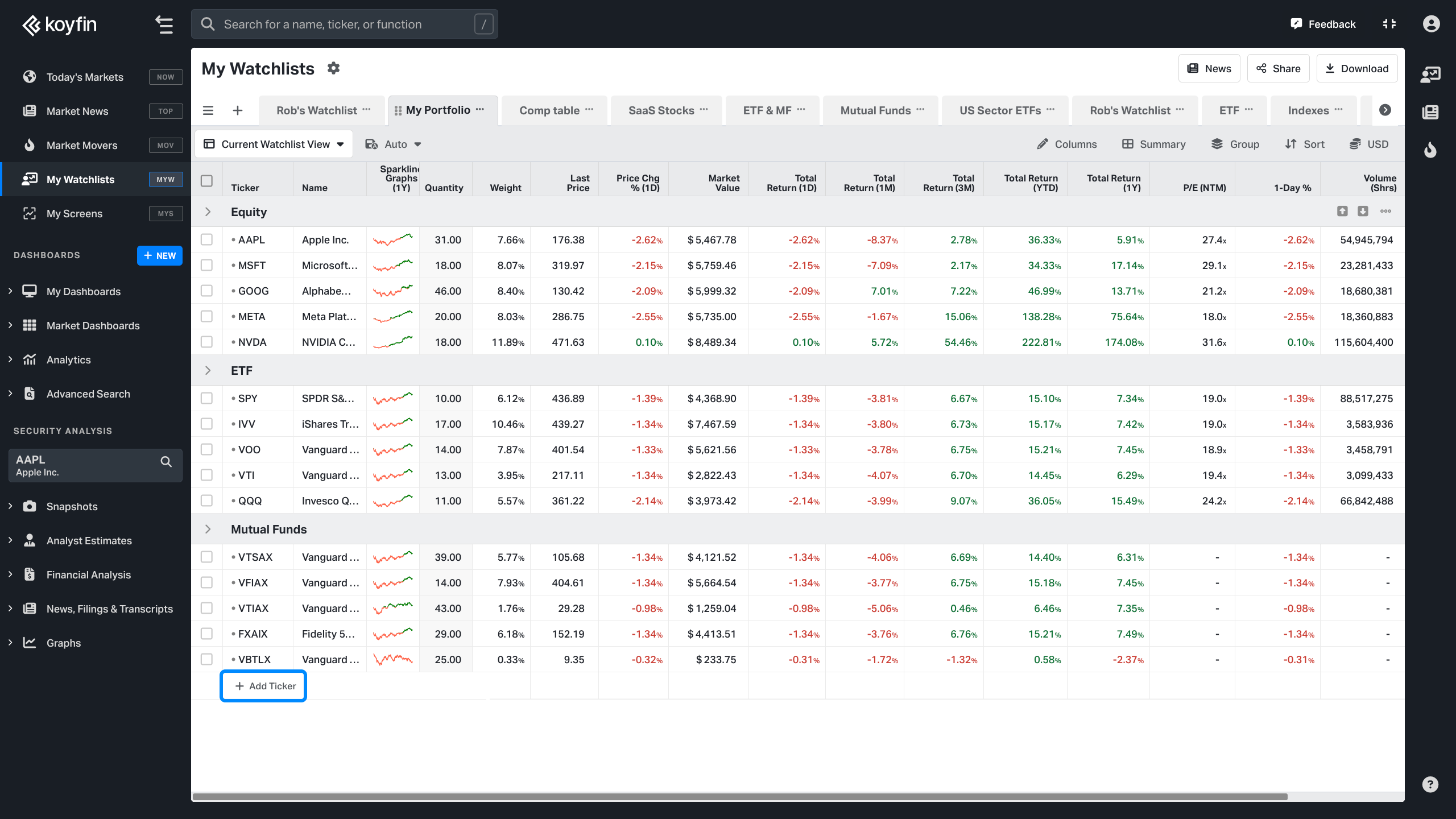 You can upload or import a list of securities by copy/pasting it into the Import Securities pop-up.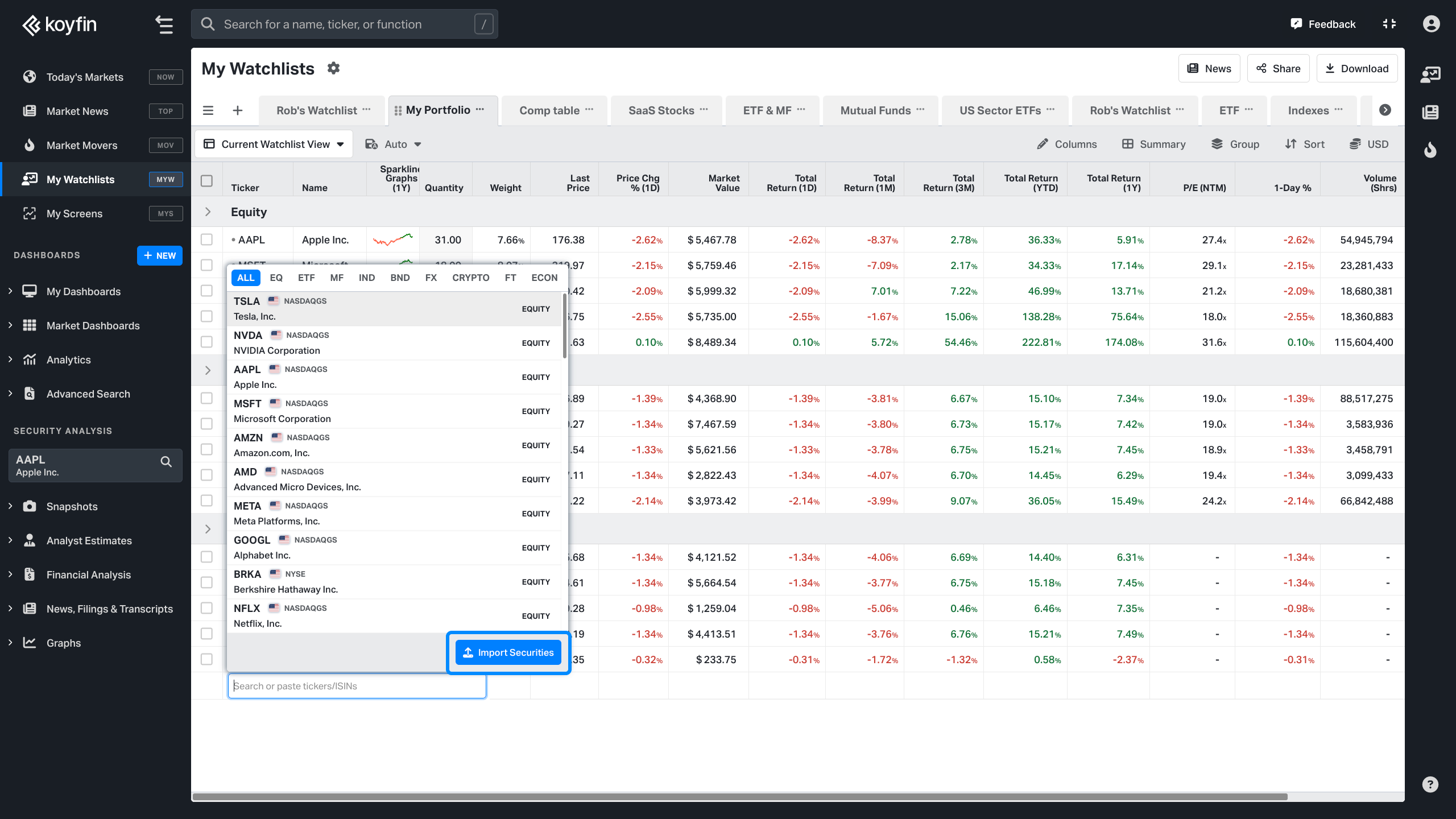 Right-click menu
Right-clicking on a security gives the ability to load that security into Koyfin functions like Snapshot or Graph. You can also delete a security in the menu.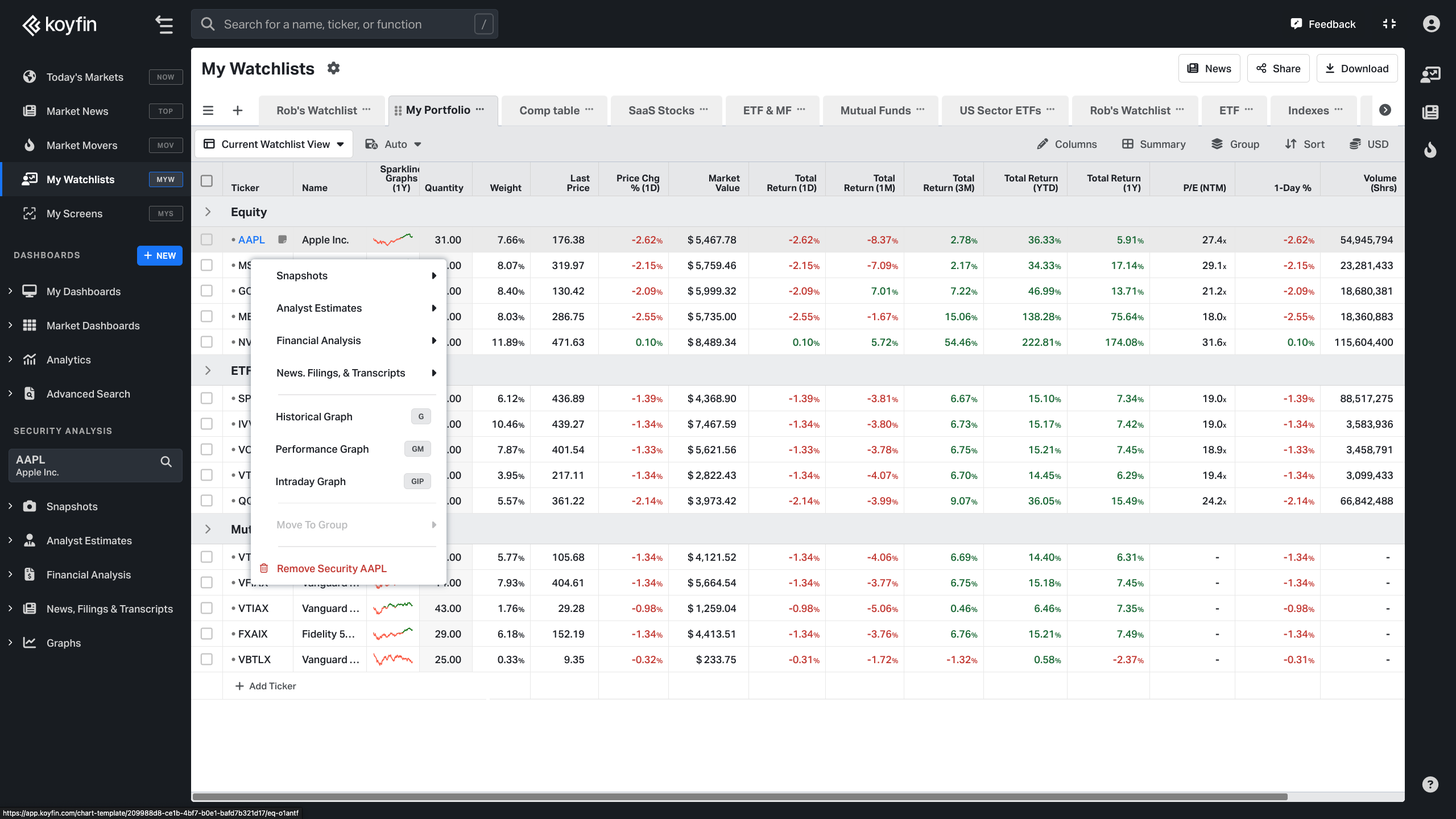 Edit Columns
You can choose which columns to display in your watchlist by clicking on the Columns icon. Column selections automatically save.
When you right-click on the column header, you can create a custom column name, sort the column or remove the column.
You can resize the columns by dragging the borders.
Custom Formulas & Calculations
This feature allows you to manipulate data with some simple math operations, saving you time and unnecessary effort. You can define custom formula calculations and add them as columns to your watchlists.
Check out this article to learn more about this feature.
Portfolio Analysis Tools
Koyfin allows you to access a variety of tools to keep track of your own portfolio. Want to track a list of securities tailored to your investment needs? Read Portfolio Analysis Tools article to use watchlists fully.
Groups
You can group securities by predefined groups like a company's Sector or Country.
You can add a custom group to a watchlist by clicking on "+Add Ticker", and typing * before the name. For example, you can type *Longs in the +Add Ticker field to create a group of Longs.
You can also click the button, "+New Group" that appears when you hover over the button "+Add Ticker".
My Views
My Views lets you create independent sets of columns and table settings, and further reuse it in your watchlists and dashboards. This feature is meant to help save your work while switching between the tabs, and make your watchlists navigation even more intuitive and hassle-free.

Check out this article to learn more about the My Views feature.
Summary
You can select summary statistics to display at the bottom of a table like average, max, min, percentiles, etc. Summary statistics will display by group if groups exist in the table. You have the option of hiding individual summary numbers by right-clicking on the summary number.
Sort
Securities can be sorted manually by dragging the order of the securities, or by right-clicking on the column header.
There's also an option for advanced sort in the header bar, where you can select multiple variables to sort by.
Watchlist Sharing
Watchlist Sharing gives you the ability to share watchlists with other Koyfin users. This is a great way to share your brilliant ideas and collaborate with your colleagues or friends on creating a common workspace to track lists of securities.
Check out this article to learn more about the sharing feature.
More on watchlists in our Koyfin Academy tutorial: