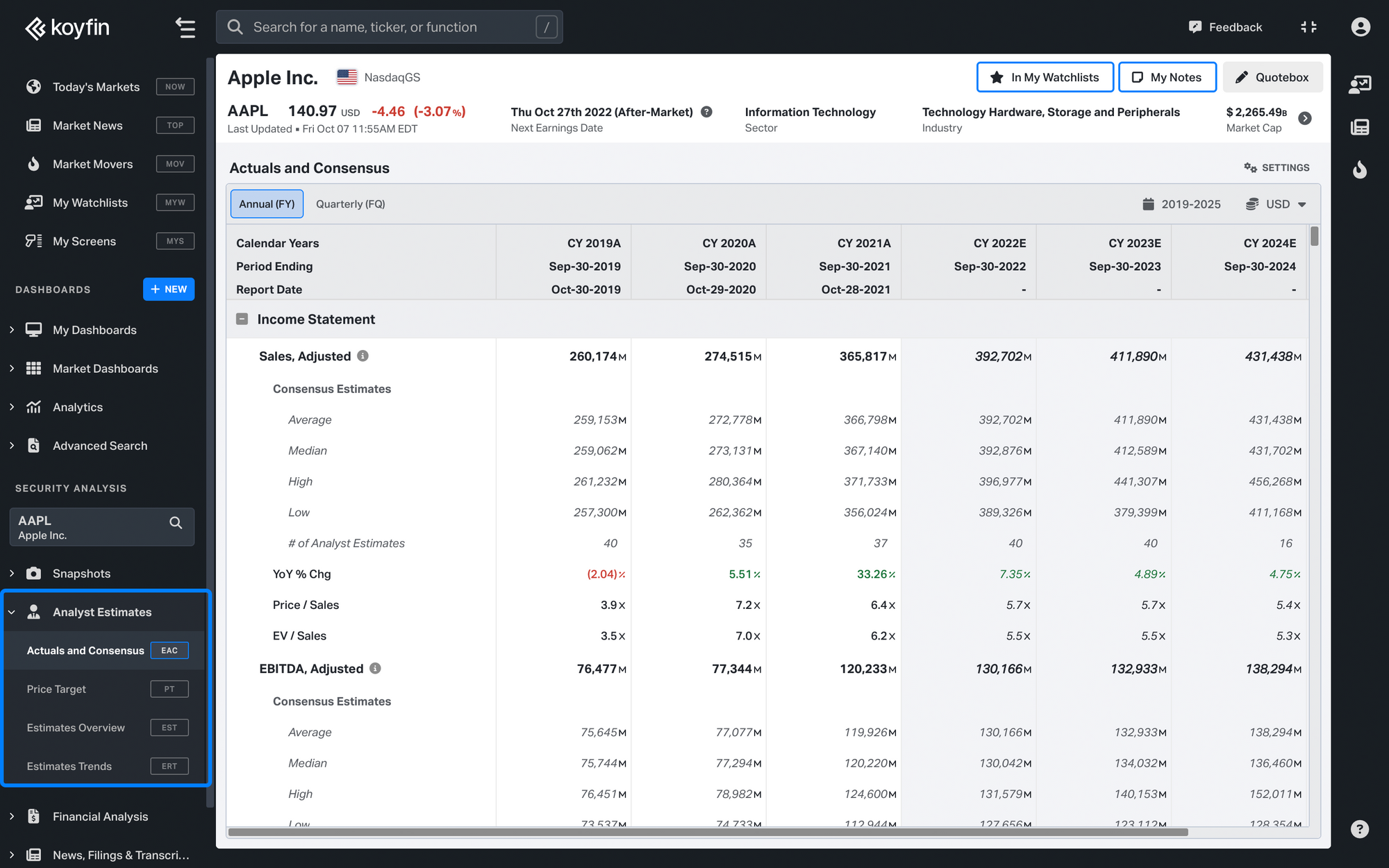 We are introducing Actuals and Consensus snapshot to allow you to see and analyze previous company financial results alongside their forward estimates. Now we have added more estimates data and structured it, so you can clearly see and compare past and future financials on one screen.
You can find it under the new Analyst Estimates category in the left-side menu. The section is divided into Actuals & Consensus, Price Target, Estimates Overview, and Estimates Trends. This data was previously in the Snapshot section but is now moved into this new section.
Functionality
On the Actuals & Consensus page, you can access Estimated and Actual data on Income Statement, Balance Sheet, Cash Flow Statement, Per Share Data, Margins&Ratios, Supplement Financial, Growth Rates, and Valuations metrics.
Most items in the table are Adjusted to make the historical and estimates data comparable. Wall St analysts who supply estimates data use Adjusted figures which exclude certain expenses that are not related to the company's ongoing business, such as those related to acquisitions or one-time balance sheet adjustments. Some non-cash expenses like options are also excluded. The logic for using Adjusted figures is that this provides a clearer picture of the company's operating performance. Items which are not Adjusted are labeled as GAAP.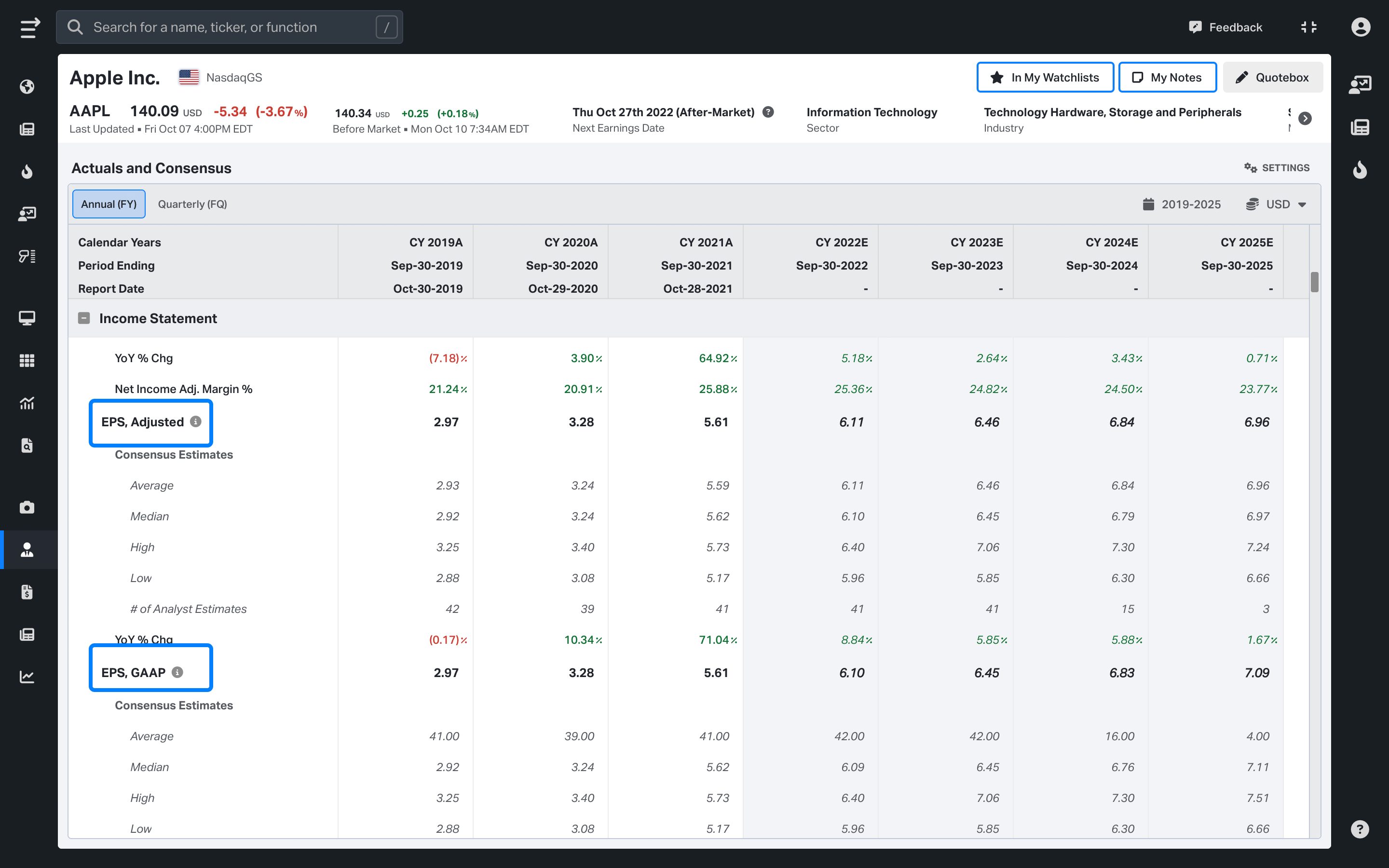 Periods which are reported are denoted with an "A" and periods which are estimate are denoted with an "E" in the row heading. The main estimate figures are the average of consensus, and you can also see the number of analysts that contributed to the consensus along with, median, high & low.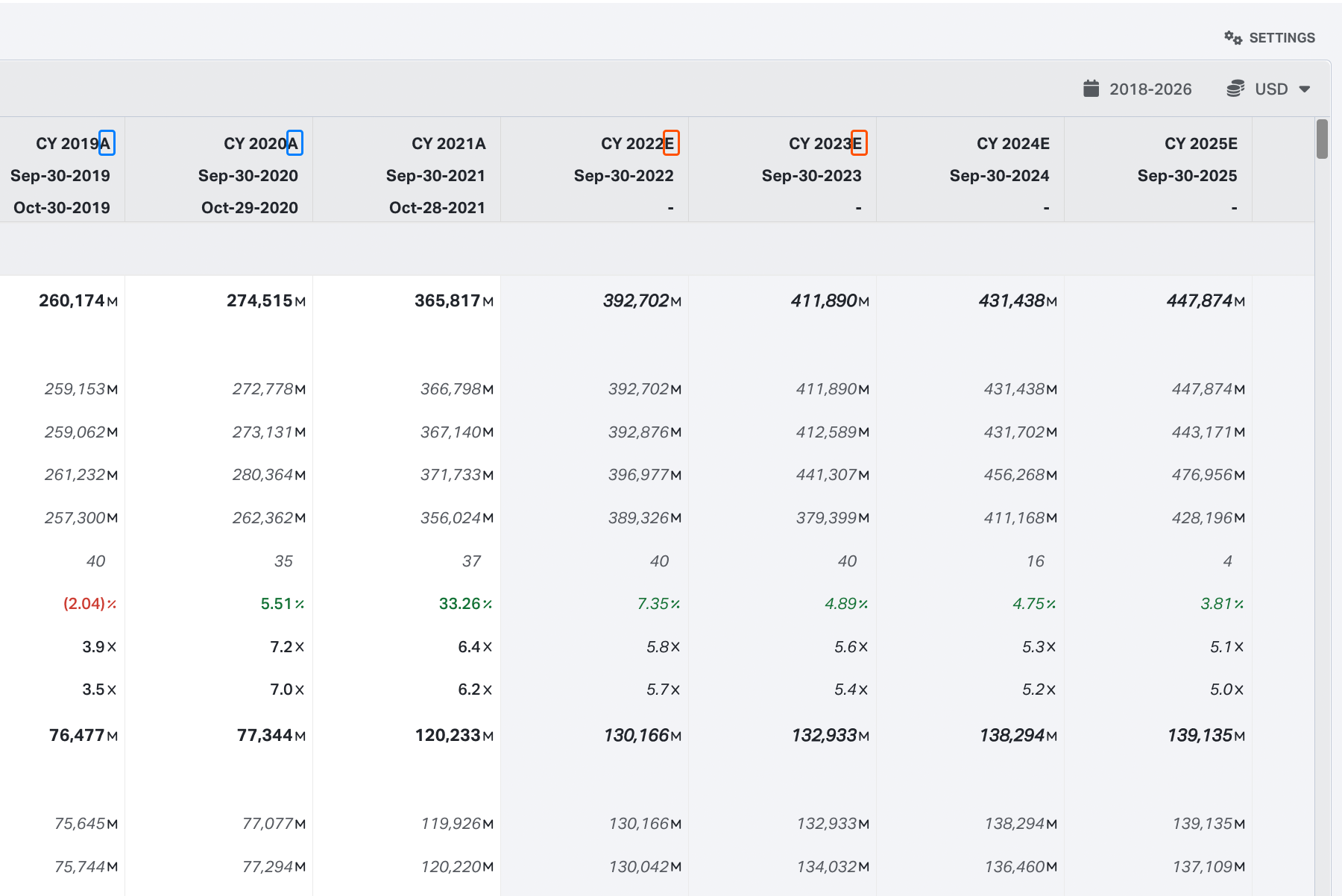 Table Settings
The functionality allows you customize table and header appearance options and currency settings.
You can adjust the table view display options by clicking on the ⚙️Settings:
Choose the order of columns based on where you want the most recent data to be displayed – on the left or on the right of the table;
Show or hide additional estimates data like # of estimates, median, high and low;
Choose currency and decimal precision between 0 and 4;
Choose between fiscal and calendar periods;
Show or hide Period Ending Date and Reported Date.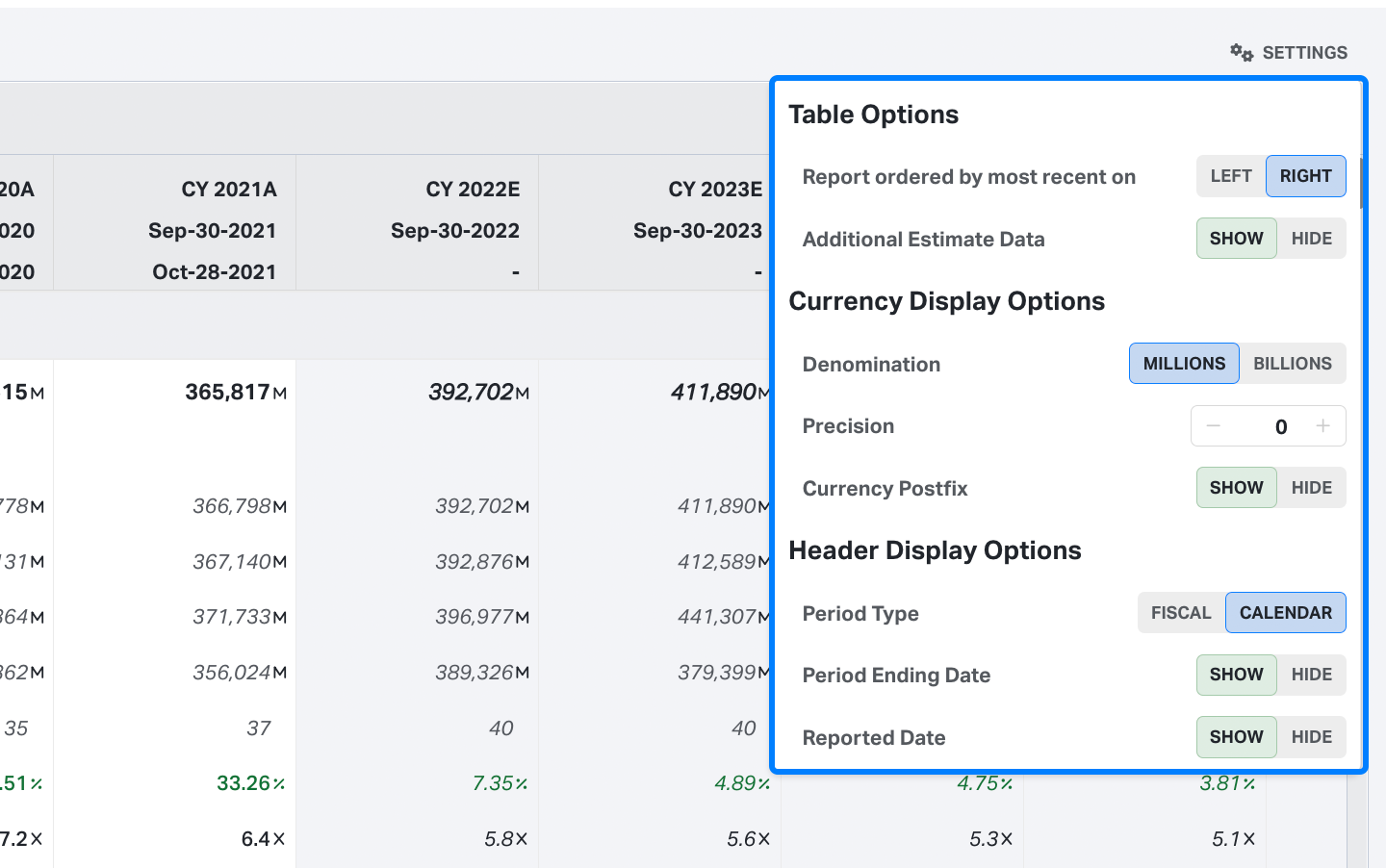 Meanwhile, options in the sub-header toolbar allow you to:
Switch financial periods from annual to quarterly data;
Select the years displayed. Going back to 2012 for Actual financials up until 2032 for the Estimated data;
Convert currency to the preferred one from the currency dropdown. By default, you see the data in the reported currency.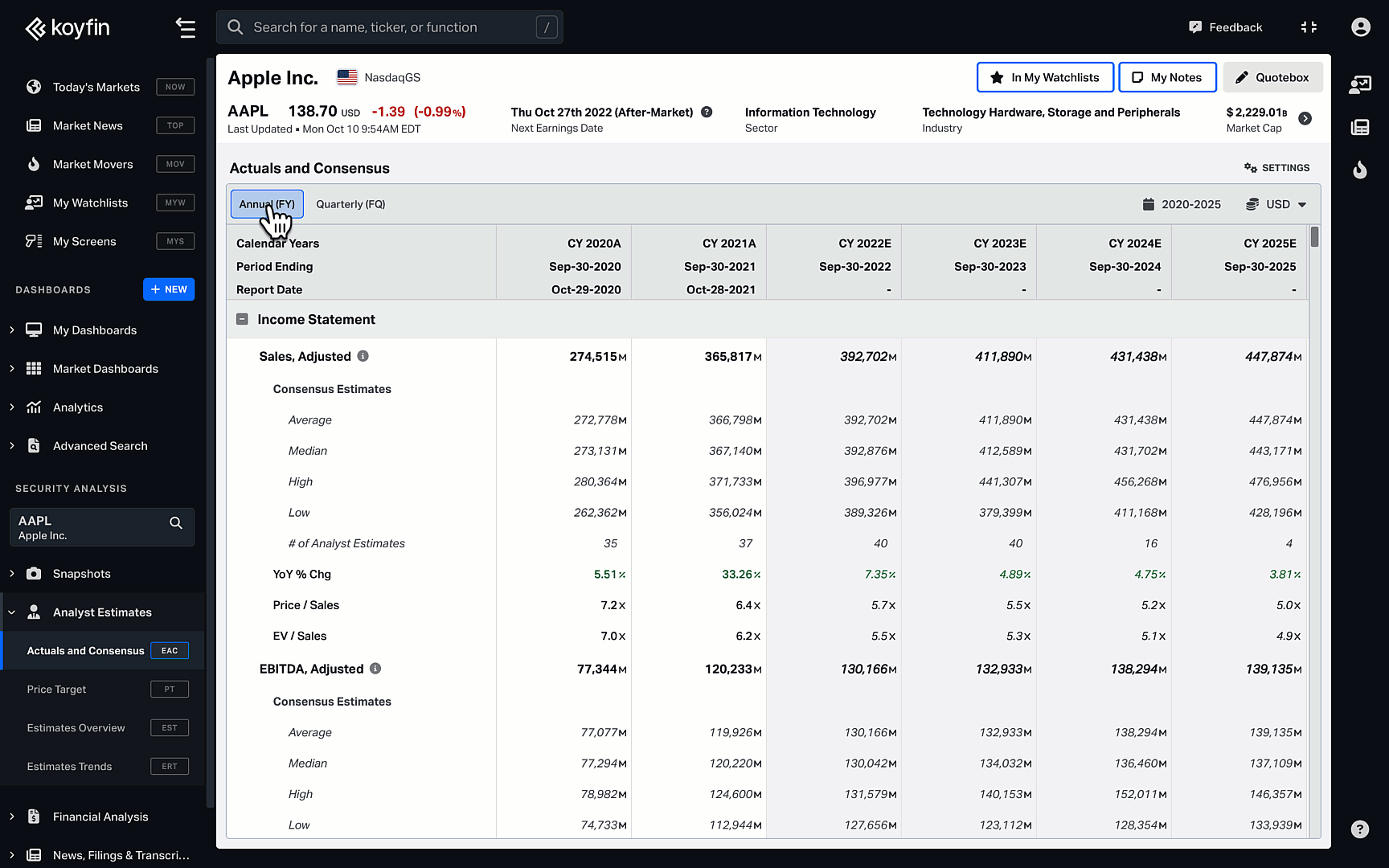 For your convenience, you can collapse table data by clicking on the ➖ next to the corresponding sections.
Plans Accessibility
Free users can see 2 years of historical and 1 year of estimates data. Basic plan allows access to 5 years of historical and 3 years of estimates data. Plus and Pro users can see 10 years of history and full estimates data.
To get more information on Koyfin functionality, take a look at other Help Center documentation or check out our YouTube channel.