V 3.13.01 - July 11, 2022
Introducing Watchlist Sharing!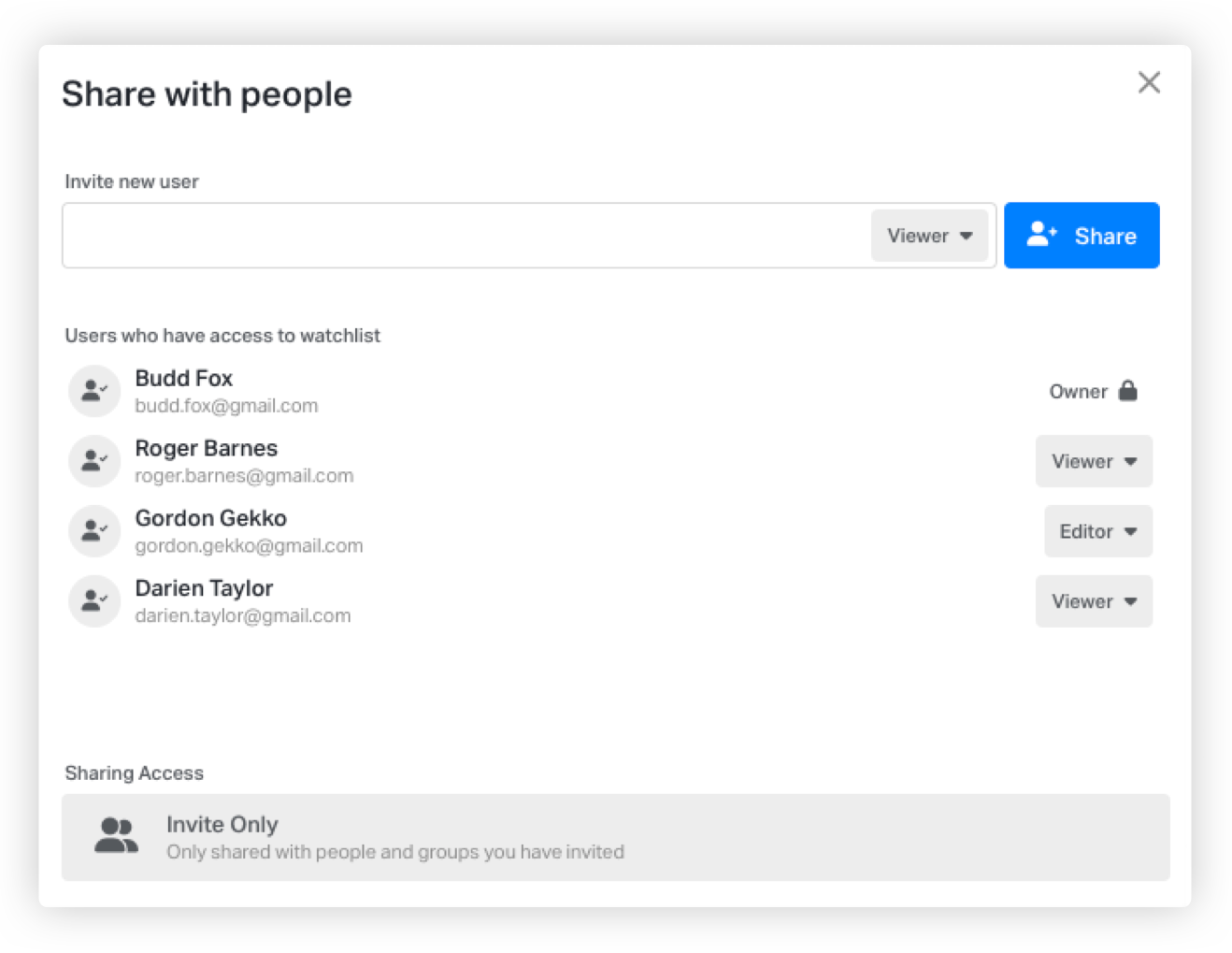 We're excited to introduce Watchlist Sharing which gives you the ability to share watchlists with other Koyfin users. This is a great way to share your brilliant ideas and collaborate with your colleagues or friends on creating a common workspace to track lists of securities.
---
How to share
To share a watchlist with someone:
Click on the 👤 Share button in the upper right corner of your watchlist page
Enter the email address of a user you want to share a watchlist with
Choose between two permissions: Viewer or Editor
Hit Share
If you grant a Viewer permission, the other user won't be allowed to make any changes to your watchlist. In case they want to do so, they will have to make their own copy but any of their changes won't be shared with you. If you give an Editor permission, the user will be able to make changes which will be reflected in your watchlist in real-time.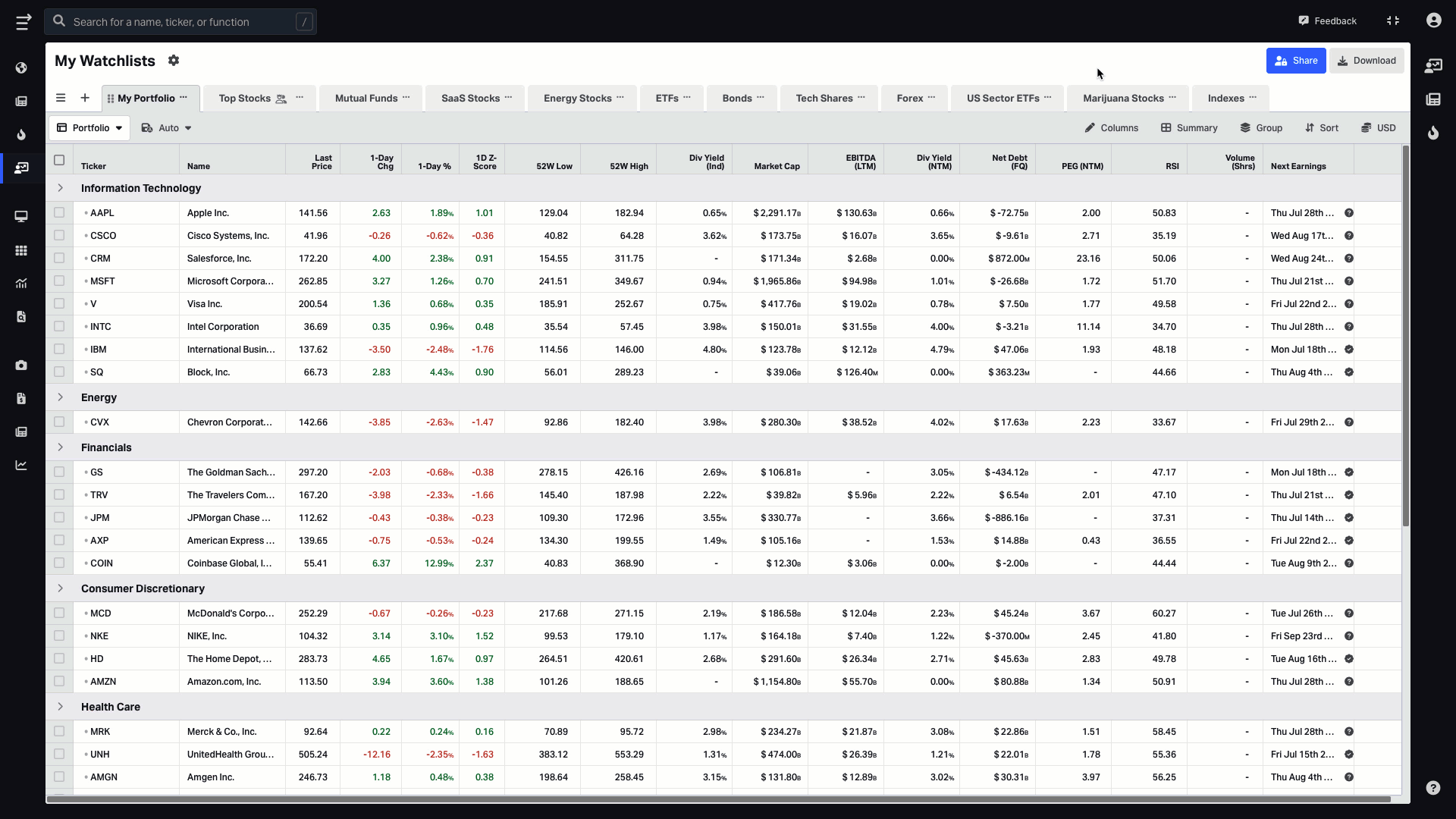 At any time, you can change the sharing permissions or revoke access. To manage access permissions click on the Shared button.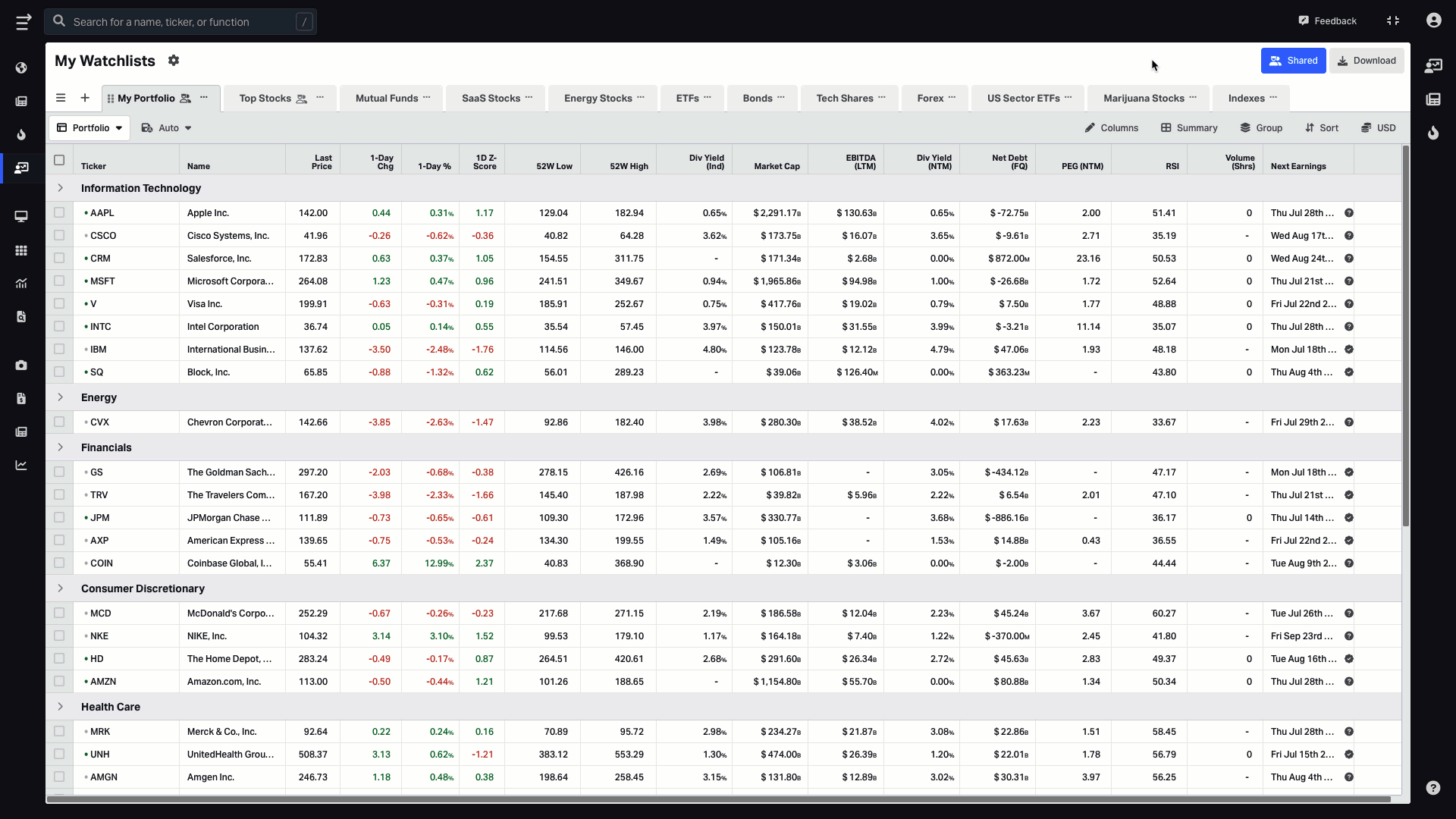 Note: Everyone with a Koyfin account can receive a shared watchlist, however only Plus and Pro users can initiate sharing of a watchlist. Only the watchlist tickers and groups can be shared at this point, but we are planning to add sharing views and columns functionality in the next release.
---
How to receive a shared watchlist
There are two ways to get to a shared watchlist of securities. Once a user shares a watchlist with you, a notification email will be sent to you. From there, click on Open the watchlist button to get redirected to the platform and get a preview of the watchlists that have been shared with you.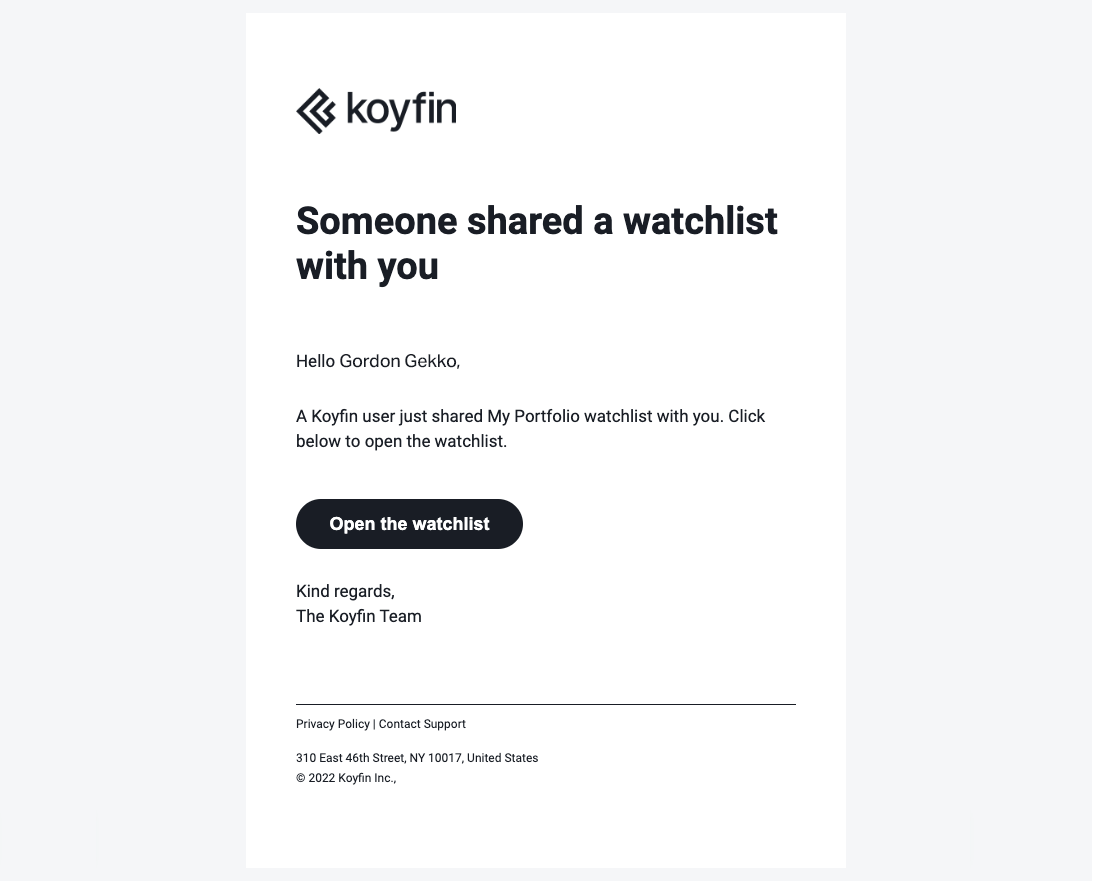 The other way to retrieve the shared watchlist is to click on Profile in the upper right corner of the platform and choose 'My Data' page. Find the shared watchlists under the Shared with me menu. Then click on the shared watchlist to see its preview.
At the preview stage, you are not allowed to make any changes to the watchlist as it is not added to your collection yet. If you want to follow it along with the changes made by its owner, please Save it to your watchlist collection. Or hit the Copy button to save a duplicate as your own.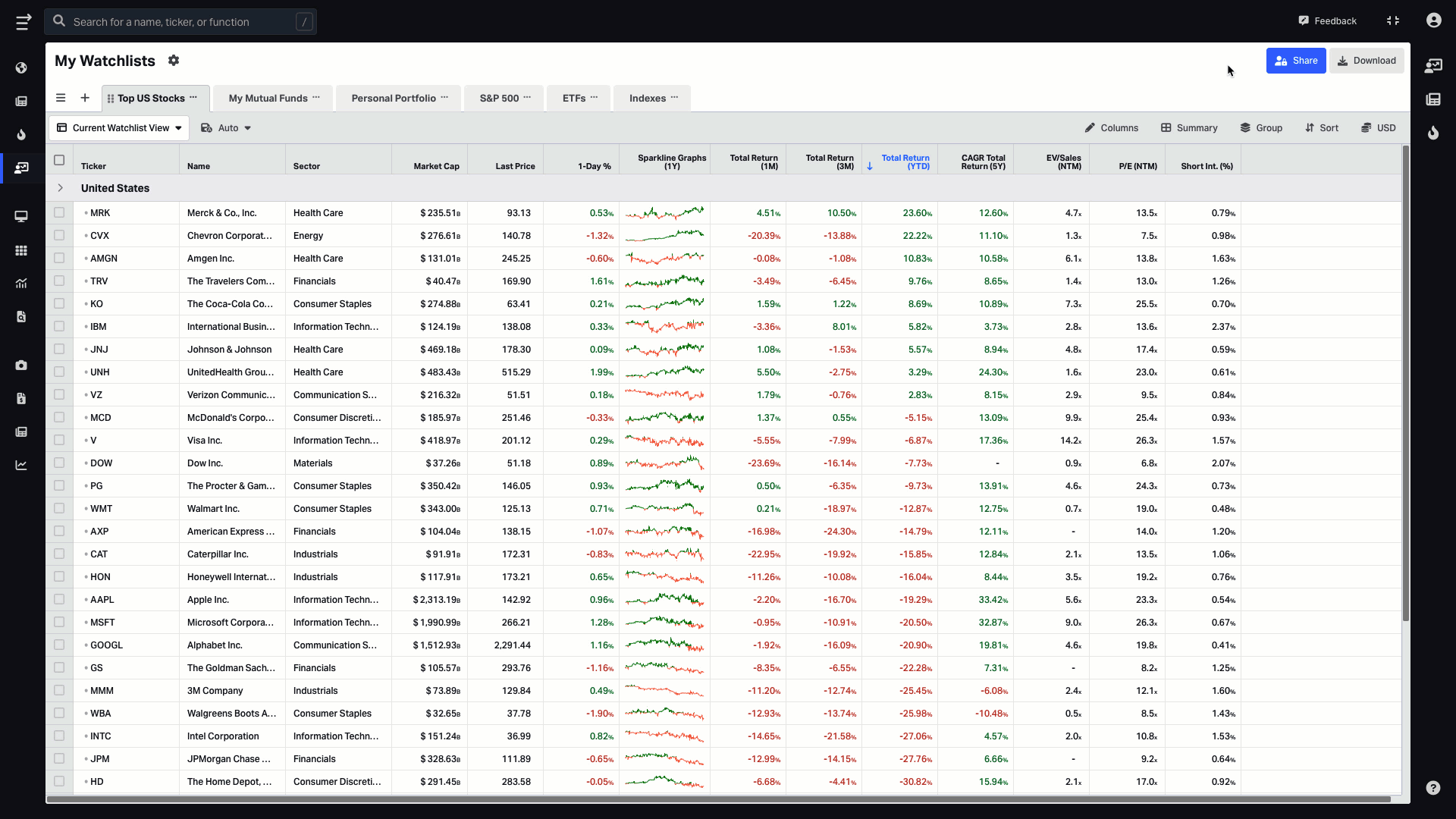 To get more information on Koyfin functionality, take a look at other Help Center documentation or check out our YouTube channel.