Dividend Snapshot is a Koyfin Pro feature that gives an extensive overview of the company's general dividend policy including yield, buybacks, payout history, and dividend schedule. In addition, the snapshot breaks down the shareholder yield into the dividend, buyback, and debt paydown yields.
---
How to find it on Koyfin
There are two ways to find the Dividend Snapshot of a company on Koyfin:
I. Left sidebar menu
First, type an equity name into the left-sidebar search box. Then open Snapshots → Dividend under the Security Analysis category.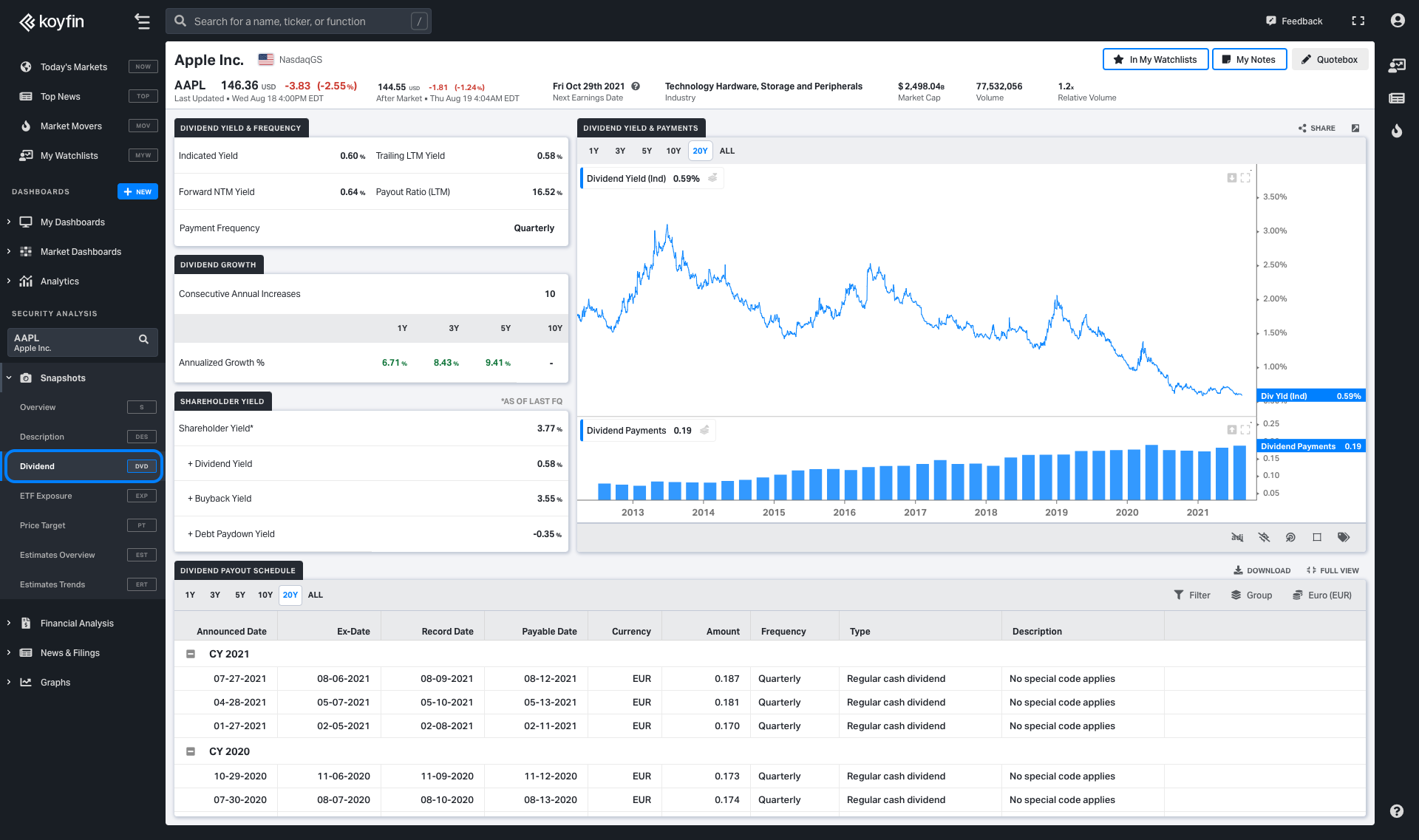 II. Command bar
Click on the top command bar or enable it with the backslash "/" key on your keyboard. Type an equity name → press "enter" → type DVD → press "enter" again. For example:
AAPL <enter> DVD <enter> will pull up the snapshot of dividends for Apple
KO <enter> DVD <enter> will show the information on dividends for Coca Cola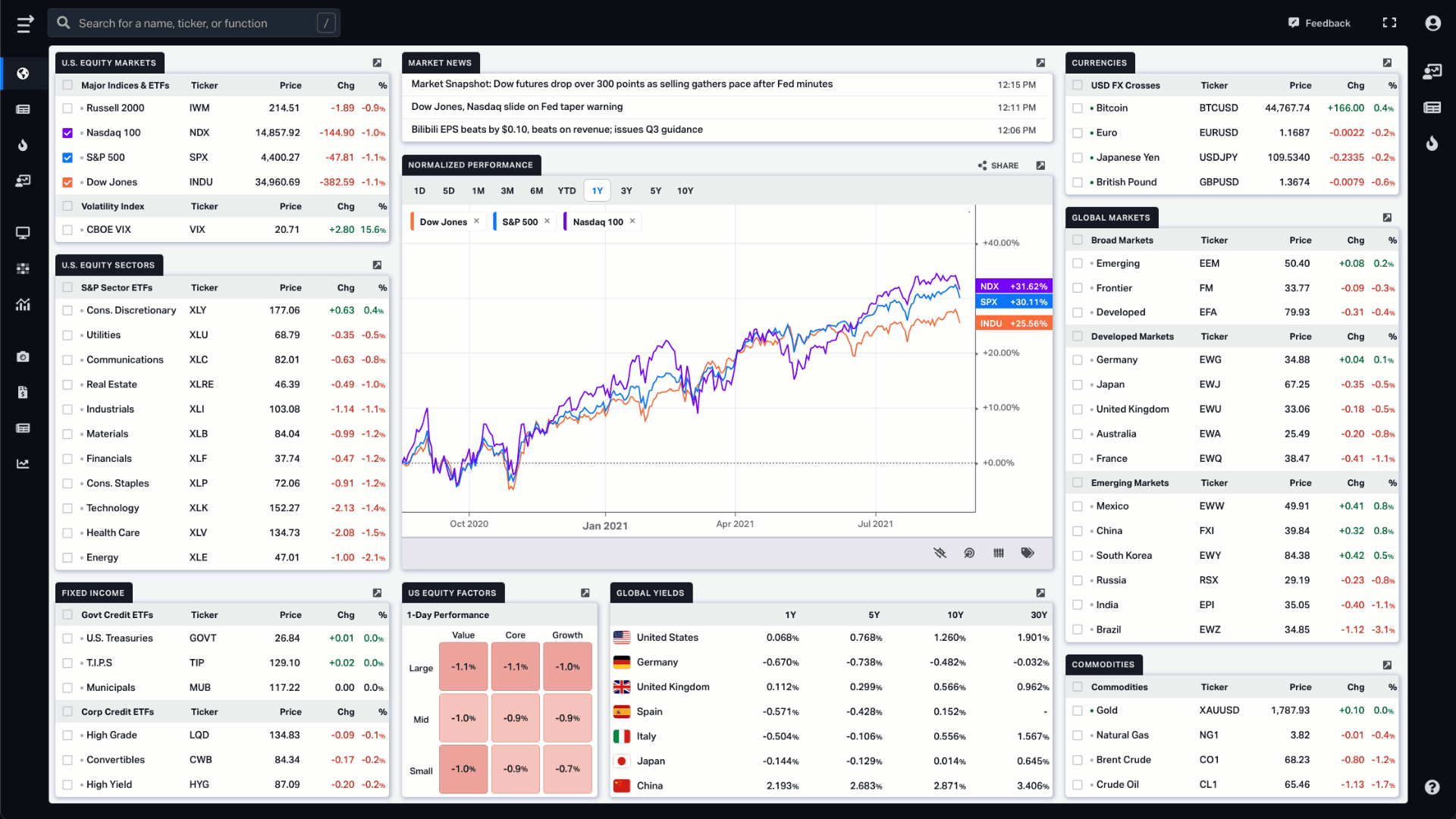 Learn more about the command bar & search functionality here.
---
What's in the snapshot
Dividend snapshot presents stocks dividend data to help you find securities with a history of consistently returning capital to shareholders. It gives an overview of the following metrics:
Dividend yield & frequency
Dividend growth
Shareholder yield breakdown
Dividend payout schedule
Chart on dividend yields & payments
Shareholder yield is based on three important components compared to the market cap:
Dividend yield — the amount of dividends paid to shareholders
Buyback yield — the amount spent repurchasing shares. This may indicate that management believes a stock is undervalued
Debt paydown yield — the net change in long term debt over the trailing twelve months. Some investors consider that debt paydown is a way to enhance shareholder value by increasing the equity holder's claim on the assets
The dividend payout schedule, the table at the bottom of the snapshot, shows the important dates of the dividend payout process that helps investors know whether and when they will receive dividends. These include ex-date, announced, record, and payable dates.
From the table, you can also learn about the amount, currency, and type of the paid dividends, and the payout frequency.
Using the Group button, you can group data by calendar year and expand or collapse all the groupings.
❗To expand the table, click on Full view in the upper right corner of the table. This will help you easier navigate the payout schedule.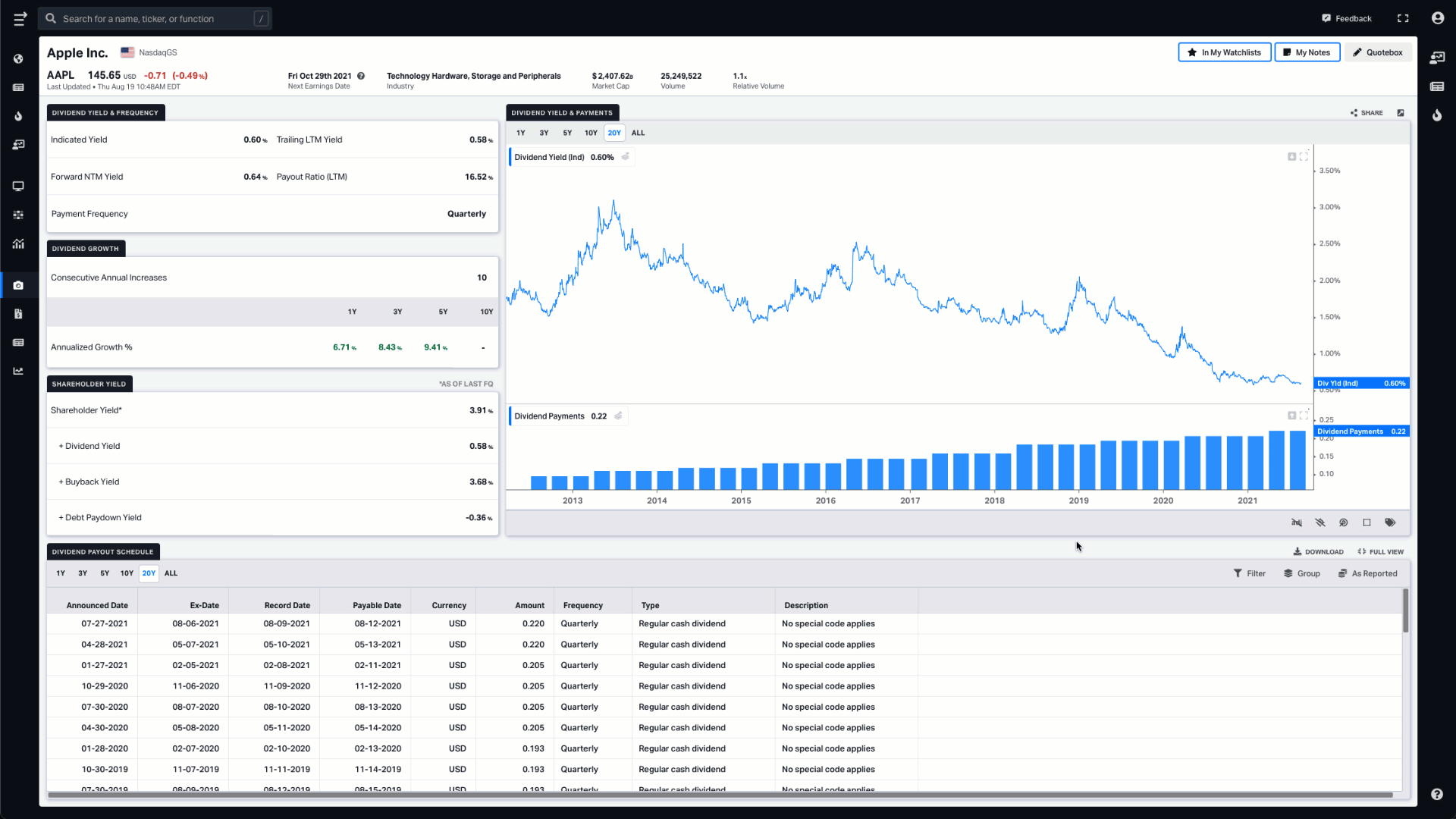 In the right part of the snapshot, you can find the dividend yields & payments chart for the fixed periods — 1, 3, 5, 10, or 20 years.
To view the graph in more detail, change it and further reuse as a chart template, click on the up-right arrow button ↗️ and you'll be redirected to the Historical Graph section of this chart.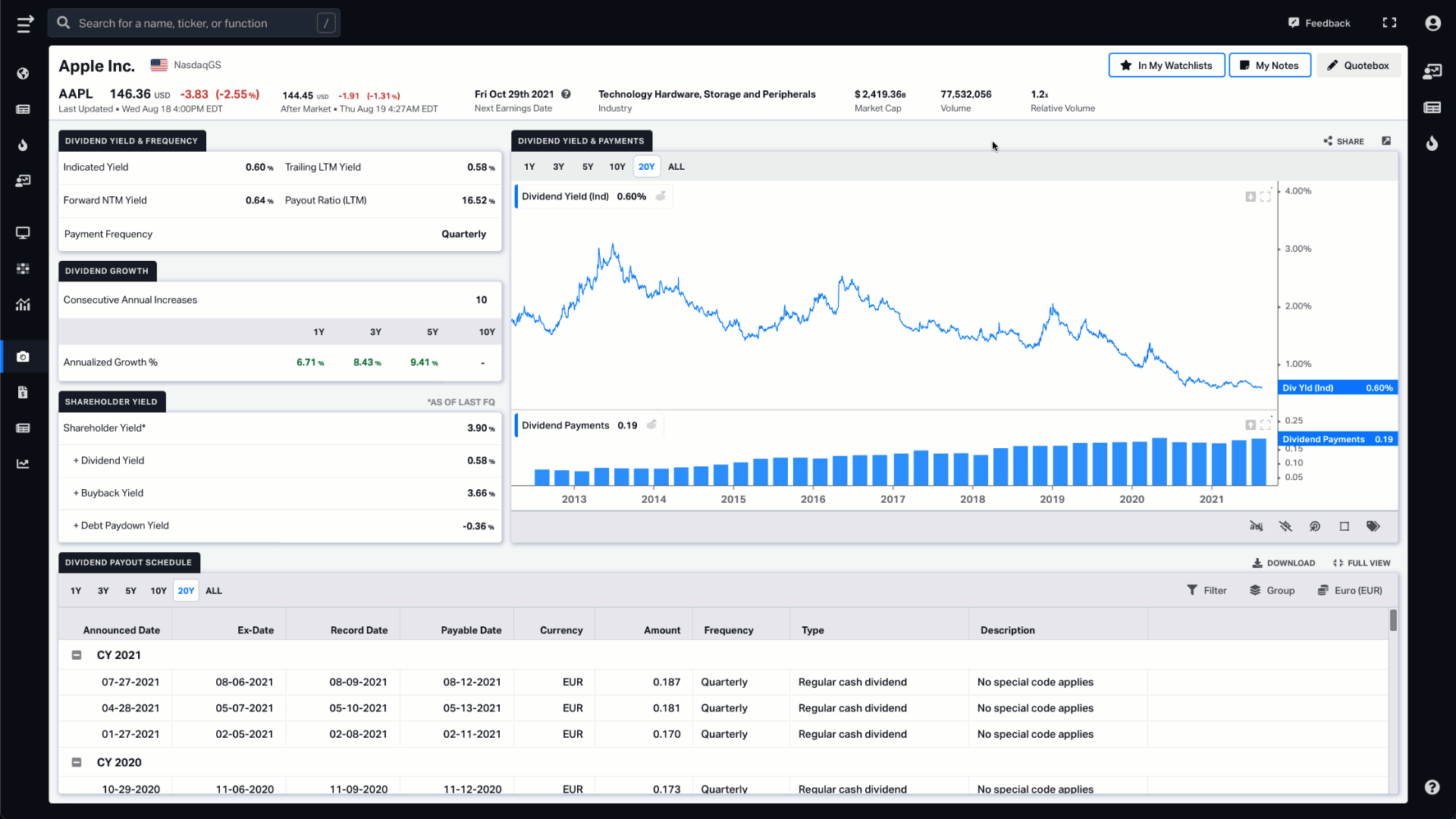 Additionally, if your Twitter or StockTwits accounts are connected to the Koyfin platform, you can share the chart with your followers within a few clicks.