*Turkey's current crisis stems from an overheated economy and increasing inflation
*The Turkish Lira has declined 40% YTD vs. the USD but there's probably more downside given that President Erdogan is unwilling to rein in growth
*Valuation for Turkish assets looks attractive relative to history, but the bottom is probably still not in
*The best ETF to play upside in Turkish equities and currency is TUR
How the Turkey got into this mess
The counterintuitive part about the current sell-off in Turkish assets, particularly its currency, is that the root cause was imbalances due to strong growth. Economic growth measured by GDP registered 7.4% y/y last quarter and was above 10% recently. Imbalances in the Turkish economy have been accumulating for several years and it was the political spat between Turkey and the US, and the resulting steel and aluminum tariffs, which exacerbated the situation.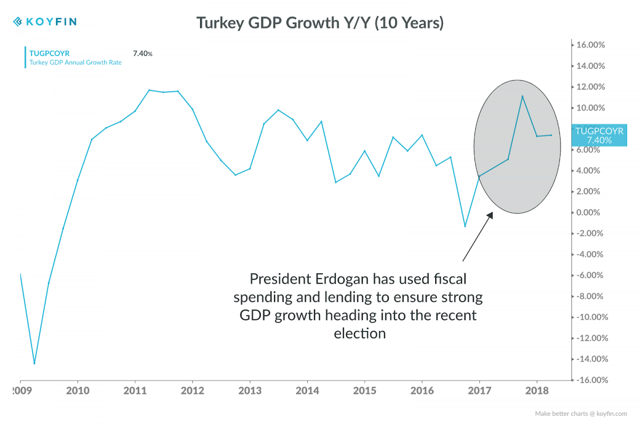 Source: Koyfin. To interact with this chart, click here.
The underlying problems are the result of President Erdogan's political decisions and misguided economic policy. When an economy is growing above a sustainable level, any central banker (and even any undergraduate economics students) will tell you that the right strategy is to promote counter-cyclical measures to prevent an overheated economy. These measures include raising interest rates, lowering fiscal spending, and reigning in credit growth. Erdogan has managed to do the opposite on all fronts in order to juice economic growth heading into the June election.
The central bank has lost credibility after Erdogan announced earlier this year his plans to control monetary policy, while calling for lower interest rates. Shortly after, he appointed his son-in-law, Berat Albayrak, to be the Minister of Finance and Treasury. The government increased fiscal expenditures both directly and indirectly to ensure strong growth right before the election. Credit and borrowing has continued to grow, supported by a state-backed credit guarantee fund that boosted construction and domestic consumption.
The result is an economy that's overheating and imbalanced. One clear symptom is that inflation has started to accelerate, with the latest CPI figure close to 16% and rising. Factoring in the recent Turkish Lira decline and consequent higher import prices, CPI will likely top 20% over the next 6 months. Turkey is at a critical point where inflation expectations can become unhinged and lead to an inflationary spiral.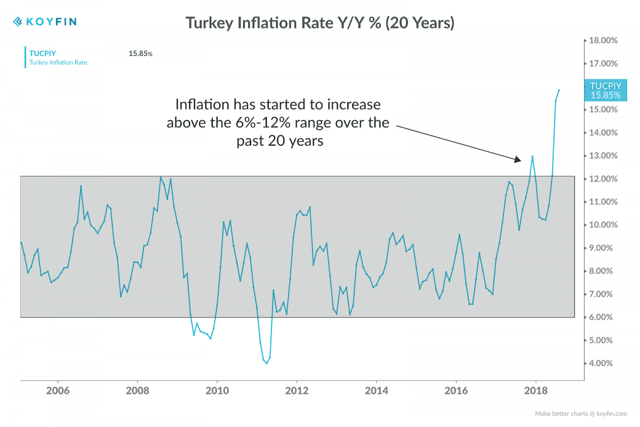 Source: Koyfin. To interact with this chart, click here.
President Erdogan refuses to enform changes
Currency crises are tricky and require skilled central bankers to manage them (hooray for nepotism!), and even then the outcome is uncertain. But if Turkey doesn't change course at all it is increasing the likelihood of a true, lasting crisis.
The government needs to convey a clear message that it will raise interest rates, reduce spending and focus on reigning in an overheated economy. Erdogan has so far been unwilling to do that. Instead of calming investors with sound policy, Erdogan has escalated tensions by blaming the current currency sell-off on nefarious foreign powers and implored citizens to boycott iPhones in favor of Vestel (Turkey's domestic smartphone producer). Minister Albayrak is scheduled to lay out economic reforms on Thursday, though all signs are pointing to an underwhelming announcement. Perhaps he will ask investors to buy more Turkish delight to support the economy.
Even if the Turkish Lira continues to decline, the spillover effects to other economies will likely remain limited. Turkey accounts for about 1% of the MSCI Emerging Markets index and its economy is about 1% of global GDP. The imbalances in Turkey have built up over many years and the current turbulence comes as no surprise for economists and corporations closely tracking the economic pulse of the country. The local stock index, the Borsa 100, is down 20% YTD compared to the currency, which is down 40% YTD. But the stock market is flat since the start of June, suggesting that local investors were anticipating the current problems to some extent.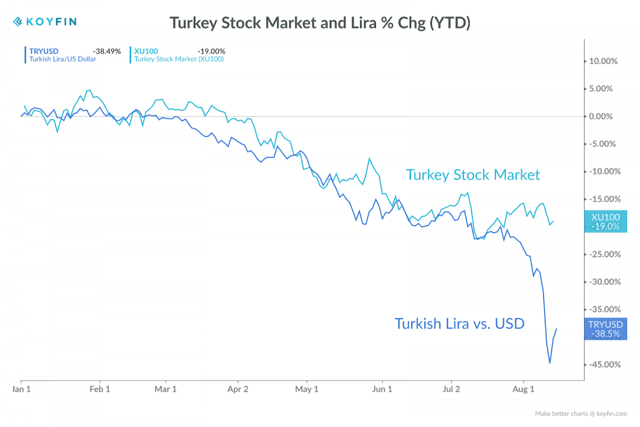 Source: Koyfin. To interact with this chart, click here.
Emerging Markets crises unlikely to result from this
The probability is low that Turkey's troubles will turn into a full-fledged emerging markets crisis. One of the key differences with previous emerging market sell-offs in the 80s and 90s is that exchange rates today are floating instead of fixed. This provides a market-based mechanism for adjustment rather than allowing imbalances to build until they boil over. In addition, the current account deficit has decreased in many emerging market economies since the "Taper Tantrum" in 2013. (Except in Turkey, which is an outlier relative to other emerging markets.)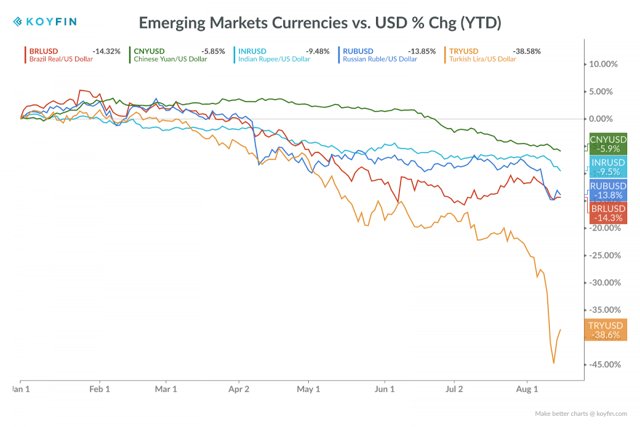 Source: Koyfin.
There is no visible worry from the debt market. Emerging markets options adjusted spread (OAS) as measured by the BAML ICE index is at 2.8%, slightly up from the trough in January but significantly below the prior 20-year range.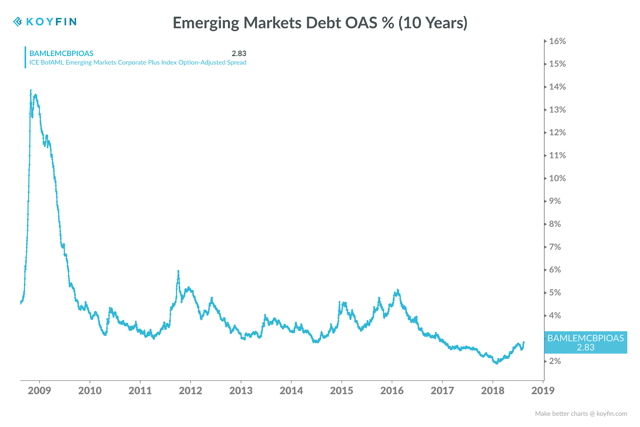 Source: Koyfin. To interact with this chart, click here.
How to play an eventual recovery
Attractive valuations are starting to appear in Turkish assets. The below analysis from Goldman Sachs looks at the value of Turkey's assets relative to its long-term history. The currency is about 2.6 standard deviations below the average over that time period. Equities are about 2.1 standard deviations below the average.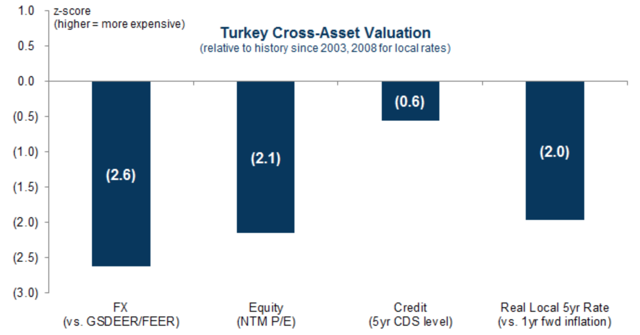 Source: Goldman Sachs
The political dynamics suggest these valuations will only get more attractive in the near term. But investors should start putting Turkish assets on their radar and look to buy once the recovery starts. The most easily available and liquid asset for US-based investors is the TUR ETF.
The TUR ETF is comprised of 70 stocks and has about $400 AUM. The liquidity is very high with the ETF trading more than $100M of notional volume per day
The description of the ETF from Ishares:
The Fund seeks investment results that correspond generally to the price and yield performance, before fees and expenses, of the MSCI Turkey Investable Market Index. The Underlying Index is a free float- adjusted market capitalization index designed to measure broad-based equity market performance in Turkey. The Underlying Index consists of stocks traded primarily on the Istanbul Stock Exchange (ISE). The Fund will at all times invest at least 90% of its assets in the securities of the Underlying Index or in depositary receipts representing securities in its Underlying Index.
A US-based investor who is long TUR is long Turkish equity prices and long Turkish Lira. For example, in the chart below, you can see how the 3 instruments are related: TUR, TRY/USD and Turkish Local Index. The TUR ETF is down the most YTD because it's priced in USD.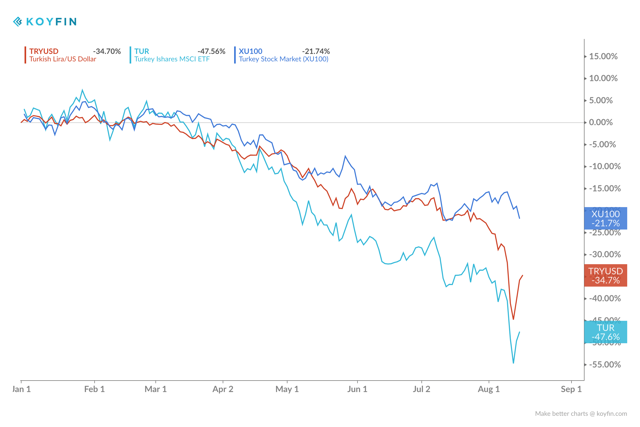 Source: Koyfin