V 3.8.01 - November 15, 2021
We received overwhelming feedback from many of our users requesting a more affordable plan — and we listened! Today we are rolling out our new and more accessible tier — Basic — costing only $15/month when paid annually.
Koyfin's mission is to make professional-grade investment tools available to all investors. Even those who are just starting out with small amounts. We want to make a plan accessible for those individuals.
Check out our updated pricing page to get detailed information on the features you now can get in all of Koyfin plans.
---
The Basic Essentials
In the Basic plan, you can create up to 8 dashboards, 8 watchlists, and 8 chart templates. These functions allow you to structure and customize the vast volume of data on Koyfin. You can browse watchlists of securities of your choice, create customized dashboards with different widgets, and track financial trends with powerful visualization tools.
On top of that, you also have access to high-quality news from Reuters for all global companies to always be in the know. These news articles are grouped into different sections with regards to specific markets and industries, together with professional company news for the tickers you want to follow more closely.
Our previously Premium snapshots — Dividend, ETF Exposure, Earnings History — will be fully accessible in Basic as well, for you to get an extensive overview of the company's general dividend policies, data on which ETFs hold a particular stock, and how a company performance compares to the projected estimates.
You can also read and analyze 5 years of financial statements in Basic. Look at a company's income statement, balance sheet, cash flow, and profitability to understand its overall financial health and make the right decision.
Pricing will start from $15/month if billed annually and $25/mo if billed monthly. We really want to make it such a good deal that it would be downright irresponsible to pass on it, so we're saving you 40% if you pay annually.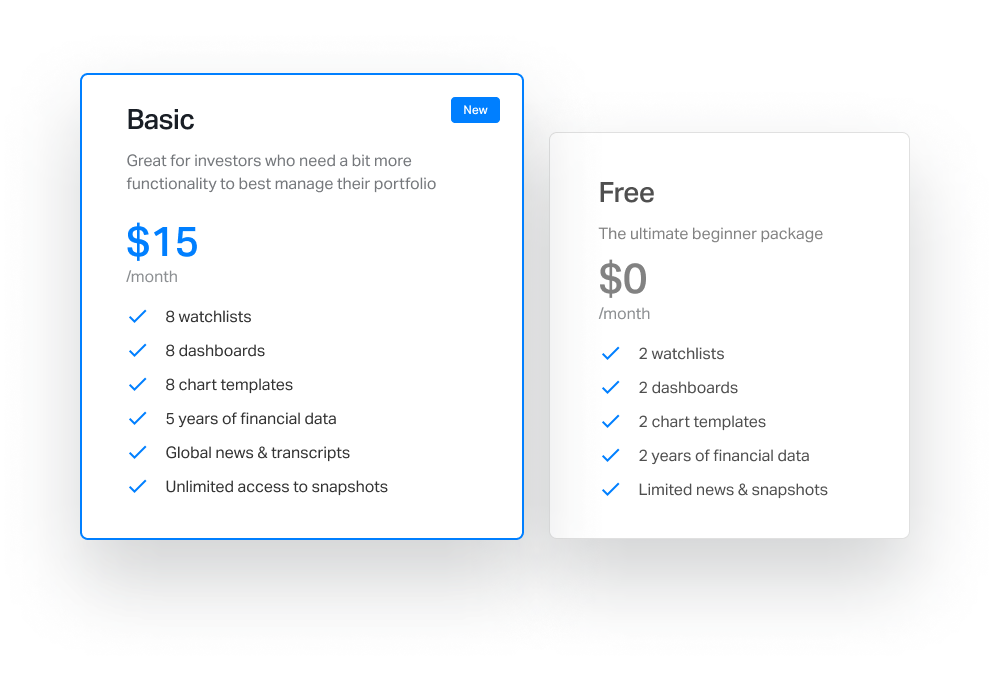 Changes to the free plan
Together with the introduction of a more accessible Basic plan, we made several adjustments to our Free plan.
Free users now have access to premium snapshots like Dividends, ETF Exposure, and Earnings History for S&P 500 companies. In addition, the corporate transcripts coverage is now extended from the last 30 to the last 45 days.
Market Analytics pages such as Market Scatter, Movers, and Lots Of Charts will be limited to indices. You have to upgrade to one of the paid plans (including Basic) to select ETF holdings or watchlists for these pages.
The Free plan now offers 2 years of Financial Analysis, previously it was 3 years.
The ETF Holdings snapshot will be now limited to the top 20 ETFs, and Earnings and Price target snapshots will be available for S&P 500 companies.
❗These snapshots will be accessible for free users until November 22. After that, the new Free plan changes will come into effect, and Free users will only see data for S&P 500 companies.